Mossy Creek Fly Fishing Forecast 6/29/2021
Mossy Creek Fly Fishing Forecast 6/29/2021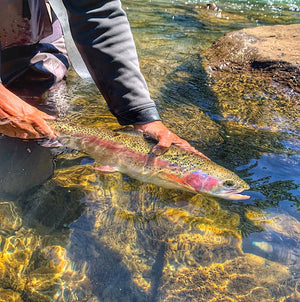 Summer is here and it sure has felt like it lately. Temps in the 90's with bright sunny days has created some changes in our local fishing. The good news is the warmwater fishing is only getting better. Warm clear water is what we like to crank up our smallmouth and largemouth action. Dragonflies and damselflies are getting thicker by the day and helping the bass look up towards the surface. Frogs are also readily available and fish are tuning into them. We have been starting our mornings with crittermites, clawdads, ck baitfish, and murdich wigglers and minnows. Once the heat cranks and the bugs are flying we switch over to topwater and focus on the shade lines. Keep an eye on the weather this week as we have some potential for some severe weather most afternoons. If the weather puts flooding or muddy water risks in play on our larger rivers remember that the trout streams benefit greatly from rain this time of year. Brook trout fishing has been excellent after local rainstorms. The spring creeks are still flowing strong as well. Little yellow stones and ants are crushing fish in the mountains. Beetles, ants, and tricos are taking fish on the spring creeks. Wayne sums things up in this weeks forecast!
RECOMMENDED HOT FLIES THIS WEEK:
-BASS-
-STREAMERS FOR TROUT-
-NYMPHS-
JIGGED SOFT HACKLE PHEASANT TAIL
-DRY FLIES-
GRAB A FLY SELECTION HAND PICKED BY OUR EXPERT GUIDE TEAM!