Mossy Creek Fly Fishing Forecast 6/21/2021
Mossy Creek Fly Fishing Forecast 6/21/2021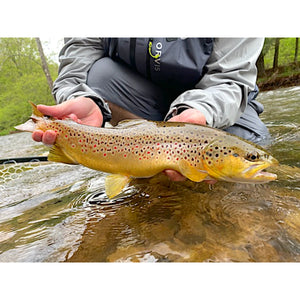 We are BACK on our fishing forecast program! Peak season mixed with the summer vacation and travel season had us miss last week. We apologize for the gap in communication. Brian is back on the oars with the rest of the crew this week so Andy breaks down what has been going on lately and what to look forward to this week! We are excited that all the news we have is awesome! The bass fishing is cranking right now as the Shenandoah has cleared up and is at excellent flows to float and fish. The brook trout streams got a good shot of rain and have been eating dry flies voraciously. Spring creek browns are rainbows are about to get their fill of Japanese beetles and other terrestrials between snacks of tricos! 
RECOMMENDED HOT FLIES THIS WEEK:
-BASS-
-STREAMERS FOR TROUT-
-NYMPHS-
JIGGED SOFT HACKLE PHEASANT TAIL
-DRY FLIES-
GRAB A FLY SELECTION HAND PICKED BY OUR EXPERT GUIDE TEAM!