Mossy Creek Fly Fishing Forecast 5/3/2021
Mossy Creek Fly Fishing Forecast 5/3/2021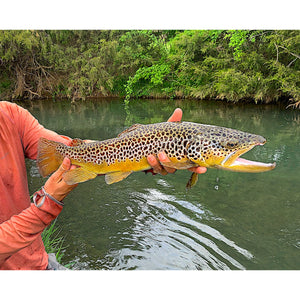 We cannot believe it is May already! That said, time does fly when you are having fun. April was incredibly kind to us regarding weather and water conditions and we are poised to have an epic month here in May if we can avoid severe weather. Our local river smallmouth bass are spawning, the largemouth are still prespawn but have been found investigating spawning habitat. The brook trout fishing is off the charts. The spring creeks are running full and clear and the insect hatches are getting thicker by the day. DWR will be out stocking your favorite trout streams for another month. There is a reason spring is such a popular time to fish in Virginia, you almost can't go wrong anywhere you fish! Brian breaks down the details for you in this weeks forecast!
RECOMMENDED HOT FLIES THIS WEEK:
-BASS-
-STREAMERS-
-NYMPHS-
-DRY FLIES-
GRAB A FLY SELECTION HAND PICKED BY OUR EXPERT GUIDE TEAM!