Mossy Creek Fly Fishing Forecast 4/26/2021
Mossy Creek Fly Fishing Forecast 4/26/2021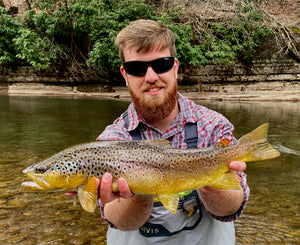 It has been an incredible month! This may go down as our best April in years. We had enough rain to keep things full and fresh but only missed about 7 days due to flooding and poor weather. Now we have above average water flow, summer like temperatures, and just amazing conditions for our mountain trout fishing, spring creeks, stocked waters, and our bass rivers! The future is looking bright. Brian lays out what you should be looking forward to this week in his latest forecast.
RECOMMENDED HOT FLIES THIS WEEK:
-BASS-
-STREAMERS-
-NYMPHS-
-DRY FLYS-
GRAB A FLY SELECTION HAND PICKED BY OUR EXPERT GUIDE TEAM!