Mossy Creek Fly Fishing Forecast 3/15/2021
Mossy Creek Fly Fishing Forecast 3/15/2021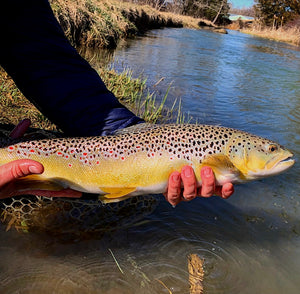 It's GO TIME in VA! Water levels are excellent, insects are starting to hatch, temps are getting warmer, and our days getting longer! Reports from the brook trout streams have been excellent already. The spring creek action is up and down with the weather and the insect hatches are still a bit sporadic. We hope to see better caddis hatches over the next few weeks along with some afternoon BWO's before the sulphurs arrive next month. Until then we will enjoy the nymphing and streamer fishing. Not much change on the fly front below. You can start to choose your favorite big bushy attractor dries for brookies right now. Humpies, Royal Wulffs, ParaWulffs, Rapidans, Hot Wing Caddis, Parachute Caddis, Clown Shoe Caddis are all fun flies to fish right now. 
RECOMMENDED HOT FLIES THIS WEEK:
-STREAMERS-
-NYMPHS-
-DRY FLYS-
GRAB A FLY SELECTION HAND PICKED BY OUR EXPERT GUIDE TEAM!