Mossy Creek Fly Fishing Forecast 5/24/2021
Mossy Creek Fly Fishing Forecast 5/24/2021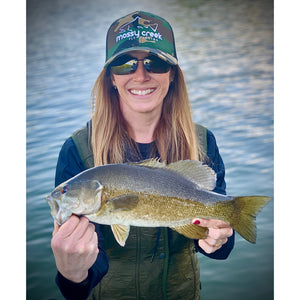 It feels like summer has come early but it looks like our weather will be milder by the weekend. We have a lot of updates on the bass fishing and trout fishing for the week ahead. Those of you that have been following the smallmouth spawn will be happy to know that a majority of males have now abandoned the nesting areas as spawn is complete! The largemouth and the redbreast sunfish are now actively spawning. The channel catfish are stacking up and will spawn very soon. So, this means you need to be careful fishing the banks for big spawning largemouth. Target the riffles, seams, and ledges adjacent to current to find smallmouth bass feeding right now. In the trout world you will find low and below average flows in the mountains and freestone streams. The spring creeks are still flowing strong right now. As water levels continue to drop you will need to ensure a stealthy approach and presentation as fish are weary under these conditions. Up in the mountains you should see plenty of little yellow stones, ants, and drakes available. The trico swarms continue to get thick on the spring creeks and we are anxiously awaiting the arrival of the green drakes! The sulphur spinner fall has been pretty good the last hour of daylight. We do have a chance for some afternoon thunderstorms in the future but it we do not get any significant rainfall soon our trout fishing will become marginal. 
RECOMMENDED HOT FLIES THIS WEEK:
-BASS-
-STREAMERS FOR TROUT-
-NYMPHS-
JIGGED SOFT HACKLE PHEASANT TAIL
-DRY FLIES-
GRAB A FLY SELECTION HAND PICKED BY OUR EXPERT GUIDE TEAM!