Peacock Bass In The Amazon!
Peacock Bass In The Amazon!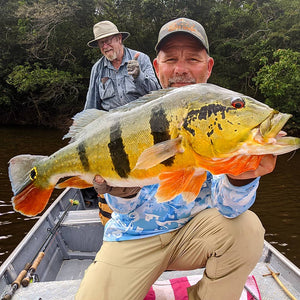 Peacock Bass in the Amazon!
Jim Shrock has been to Brazilian Amazon 5 times between January 2020 and 2023. Now he's talked us into putting together a Mossy Creek Fly Fishing hosted trip to the jungle chasing the mighty peacock bass. Here's everything you need to know to join us on this adventure in January 2024. WE CURRENTLY ONLY HAVE 2-3 SPOTS LEFT!!!
In January 2020 Jim Shrock came to the Amazon for the first time. The trip was organized by Rob Anderson and the Bucket List Fly Fishing. Mossy Creek Fly Shop packed Jim with everything he needed to go chase the most aggressive freshwater beast in the world. Just like everyone had been warning this trip changed Jim's life. Fishing for peacock bass is something that shifts your feelings about a fishing trip forever and you become addicted for the rest of your life. They're big, aggressive and, where Jim went that year, there's a lot of them. Catching up to and over a hundred fish a day per angler is a reality in well preserved rivers of the Amazon. The photos and videos that came back from that trip could barely do justice to the madness that is jungle fishing with the right guys. It was only a matter of time for us to get involved. So, after Jim did his trip number five with the Bucket List guys and the reports we heard we knew there would never be a better co-host for this trip.
So, what are those floating cabins and why are we teaming up with Bucket List Fly Fishing for this? Well, there are different ways to chase peacock bass in the Amazon. Fishing operations in that part of the world isn't a new thing and you'll find hundreds of offerings in a few minutes online. There are houseboats, even luxury ones, there are lodges, there are even trips in hammock boats or tent camps. What's so special about the setup Bucket List Fly Fishing and NG Turismo have?
Preserved rivers. Rio Negro is known worldwide as the #1 destination for peacock bass. It's a huge river, one of the largest tributaries of the Amazon river – 1400 miles long and up to 200 ft deep. And that is why it attracted tons of commercial and sport fishing operations. It is near to impossible to offer any degree of exclusivity in that area with hundreds of boats going up and down that river. That made some of the sport fishing operations look for quieter areas on smaller rivers. Turns out, most of them can be found in the state of Roraima – the state in Northwestern Brazil, bordering with Venezuela, with the lowest density of population in the country. Most of the rivers have small villages at their mouths and it takes a number of licenses and special agreements to access those rivers and guarantee that they won't be fished by netters or other operations. Natan Guedes is the man from a village across the river from Manaus – a big city in Brazilian Amazon. He's 52 years old and he's practically lived on the river since he was 7. His integrity and local knowledge made him the most reliable person for both – the villagers and those booking trips to his floating camps. With the right management of resources, social programs, constant visits to villages on a dozen rivers he's got licenses for, Natan has an impeccable setup that results in you catching 100 fish a day. Villagers are on year-round payroll to watch and preserve the rivers for only 8 weeks of catch-and-release fishing per year. On top of that, during the 8 weeks, the floating camps are managed in a way that no area of the river gets overfished. Plus, with social programs, they succeeded in keeping the rainforest and it's wildlife untouched. Most of the 8 weeks of fishing happens in the headwaters of those rivers, in shallow, clear areas, some of them with beautiful white sandy beaches. Whish takes us to the next question – how do we get there?
Impeccable setup for remote fisheries – the floating camps. Fixed lodges are nice, but being in one means you're going out fishing from the same spot every day. Considering some of these lodges run for over 20 weeks most of the areas within 2-hour runtime get overfished. Houseboats are great, but their mobility is limited by their draft – and there's no way they can make it to the headwaters where the rivers get as shallow as 5 inches. So, they came up with a new model – the floating camps. Aluminum structures on pontoons with the comfort of a nice hotel room and the draft of less than 6 inches. Easily put together in a "river train" to be moved up and down the river both during the fishing week and the season, as well as promptly switch from one river to another if that needs to be done due to weather conditions and water levels. A perfectly trained staff breaks a camp like that down and puts it back together up to 3 times in a single week while anglers are out fishing, moving the whole camp and supplies with no fear of sandbars and shallows. Over 20 years of these operations and the lodging and dining cabins kept getting lighter while bigger, better and prettier. Not only they look cool now they are very practical and have little to none impact on the environment. There's no other way to have both – a great level of comfort and access those remote areas loaded with fish.
A trip designed for fly fishermen. NG Turismo has been working in the Amazon since 1992. 99% of their clientele are conventional anglers. When Rob Anderson stepped in, him and Natan Guedes started working on shaping the operation for fly fishermen. To achieve that in 2019 they addressed the main points:
Fly Fishing Only areas. Conventional angling is a much larger market than fly fishing, specially when it comes to expensive trips to remote locations. That being said, for a river to become a fly fishing only place you need to fill 2 camps for 6-8 weeks every year to make it work for everyone involved. While at the beginning that wasn't something Bucket List Fly Fishing could pull off, but Natan assured them fly fishermen would at least get the weeks ahead of conventional anglers every year, as well as parts of the rivers would only be accessible for fly fishermen throughout the whole season like Rio Novo, a tributary of Xeruini River, home to enormous Orinoco Peacock Bass and specific lagoons (many of them actually discovered and mapped with the drones by Rob and Karim).
Trained fly fishing guides. Sight fishing, correct positioning of the boat, balance between trolling motors and polling platforms, good communication between anglers and guides – all of this is important in the flight fishing world. NG Turismo is proud to use 100% local workforce meaning the fishing guides grew up on this rivers. Combining their knowledge of the river and fishing with understanding the needs of a fly fisherman and achieving good communication – that was the challenge. Turning boat drivers into fly fishing guides required a special series of training programs which were performed by Bucket List Fly Fishing and NG Turismo, involving also the rest of the camp staff. As a result, we now have perfectly trained guides and simply great people to share a boat with that every year find better and better ways to communicate mixing Spanish, English, Portuguese and gestures. They all are fly fishermen themselves now, so they know the needs of our people.
Once again, getting to remote corners of remote fisheries in the Amazon is important but challenging. Having everything this demanding level of fishing needs is another story. NG Turismo has fantastic logistics, but also enough enthusiasm to jump into projects like building custom skiffs for land-locked lagoons. Rob And Natan review the equipment every year, consider suggestions, move platforms and tool boxes around. Every detail is thought of when it comes to fly fishing.
Now, let's get to the trip in a Nutshell.
WHEN
Our hosted week is January 20-27, 2024. January is the prime season in that part of Brazilian Amazon. It will be the third week of operations for Bucket List Fly Fishing in 2023 and a safe date for water levels.
WHERE
State of Roraima, Brazilian Amazon. We land in Manaus, capital of the state of Amazonas and take a 1h15m flight on an 8-seat float plane or 9-seat wheel plane. We usually confirm which river we'll end up fishing by mid-December. Our plan A river is Xeruini and its tributary Rio Novo. The Amazon Basin is quite a living organism and there are years when rivers back up due to off-season rains and with that we are fortunate to have a "backup fisheries" – Labirinto da Tartaruga. Located on the Rio Branco Tributaries, it is on a higher elevation and closer to the Guiana Shield – the place peacock bass species is from. With that in mind, even when the water is too high fishing is top-notch there – for example in the last season the week number one had 9-feet higher water than usual and still, 2500 peacocks were caught with a record 74 over 8 pounds between 8 anglers. Both of the fisheries offer great quality and quantity of fish and each one has its particular advantages: the Xeruini has land-locked lagoons, lots of Açu and Orinoco peacocks, while Labirinto da Tartaruga is a great multi-species fisheries. Xeruini has great sight fishing opportunities, Labirinto has very aggressive fish that swim almost all the way to the boat. Xeruini has white beaches and crystal-clear water, Labirinto offers incredible jungle and wildlife experience.  Fishing is equally great in the right conditions while the target species is the peacock bass.
COST
This is an all-inclusive trip for 8 anglers for U$6000 (airfare not included) with 6 ½ days of fishing, transportation to and from the camp and all the lodging, food, beverages. In January the trip will have a local host and the Mossy Creek team – Jim and Colby, meaning we're only taking 6 anglers with us.
See everything included and a trip planner here: https://bucketlistflyfishing.com/rio-novo-amazon/
FISHING
The fishing on the Xeriuini River Preserve and Rio Novo is amazing. Anglers will spend their day in our state of the art 18-foot Jungle skiffs. Two large casting platforms allow both anglers to fish simultaneously. An important part of fishing for Peacock Bass. The boat is equipped with an outboard motor and an electric trolling motor and a polling platform. There is plenty of storage for extra gear also.
Anglers can expect an action-packed day of fishing. There are 4 sub species of Peacock Bass as well as numerous other species of fish that will all eat the same fly. The Rio Novo- headwaters area has World Record sized Orinoco and Butterfly Peacock Bass as well as Acu Peacocks reaching 20 pounds or more. There is lots of sight fishing and top water opportunities in the crystal-clear waters and casting to blow ups and cruising fish is an all-day event. 
There are literally thousands of tributaries that are fishable in the Amazon Jungle. They range from small clear creeks to huge Lagoons. Over the last 20 years our team has fished and scouted the Amazon to come up with the very best fishing opportunity for our guests. We have taken into consideration all of the things necessary to make our fishing trips stand apart from the competition. There is no 2nd choice.
The new floating cabins have allowed us to get to the extreme upper river headwaters area. We are able to explore hard to get to tributaries including our virtually un-touched private river, Rio Novo. The immense amount of wildlife is amazing and the largest concentration of Peacock Bass we have ever seen. This area on the Xeriuini River Preserve is totally remote and over 100 miles from the closest village. It has some of the clearest water in the Amazon and the sight fishing and wading opportunities are Amazing. It is possible for boats to catch over 200 Peacock Bass in one day and each week every angler should have numerous opportunities to catch fish over 10 pounds. A lot of the big fish are caught while sight fishing. 
With the help of a drone we are also able to locate many land locked lakes that have also never been seen or fished before and loaded with fish. With over 200 miles of river there are years of exploring to do and we are also able to keep the fishing pressure to a minimum with our very short season and our mobile floating cabins.
Our boats are one of a kind built from scratch with Peacock Bass fishing in mind. There are two large angler platforms so both anglers can fish at the same time. Outboard motors, electric trolling motors and a Polling platform for the guides. The boats are 18 feet long yet small and light enough to navigate small creek channels, shallow water and even can be pushed into land locked lagoons that could be loaded with fish. These are the only jungle boats in the Amazon built this way. 
THE CAMP
While staying on the river you will be treated to what we like to call Jungle comfort. Our floating cabin program is state of the art. The entire camp can float in less than 8 inches of water. We can take it just about anywhere. The Living quarters, built for two guests, have two separate beds with real mattresses. A bathroom equipped with a shower and toilet. There is a wash area with a sink and running water.  There is lighting throughout and multiple outlets for charging. (Brazilian Two-Pronged plug). The is ample storage for gear and clothes with a desk and chair and the best part it is fully air-conditioned. 
The fully Airconditioned Dining Cabin has a large table for meals, a fully stocked bar, refrigerator with water and many other drink choices including beer and plenty of room to have meals and relax. 
All of the floating pieces of the camp are easily separated and secured to the beautiful White sand beaches of the river. The advantage is that the living area of the camp is expanded onto the beach where tables and chairs and sun shades are placed to create outdoor living at its finest. Beach Barbeques are a hit with many of our clients.  The swimming opportunities of the warm, mineral rich, rejuvenating waters of the river are amazing. Another advantage of our floating cabin program. It has a real jungle life feel.
The most amazing part of the entire operation is that the entire floating camp can be torn down and moved day or night but mostly while the anglers are out fishing. While the anglers and guides are out on the river, the camp, two to three times a week, like a mobile army camp, simply pick up and move. This gives us the opportunity to continue to fish fresh water every day and put our anglers in areas that are un-reachable by any other means. We fish water no one else can and the results are undeniable.
THE FOOD
Our camp chef has over 30 years' experience in Brazilian cuisine and has cooked for fishing operations for over 20 years. This is of utmost importance when you take into consideration, we are feeding 15+ people every day hundreds of miles from anywhere. Breads and cakes made fresh daily, tons of fresh fruits, beef, chicken, pork and fish are all parts of the daily fare. Dinners are outstanding with many courses usually started off with the soup of the day (Piranha Soup is a camp favorite) followed by the main course usually of Brazilian descent and finished off with dessert like fresh Tapioca flan, Cupuacu Ice Cream which is a local jungle fruit which means fruit of god.
Our guests come into this trip expecting more of a maintenance food approach due to the remoteness of the operation and walk away talking about the food and asking for recipes.
WE ONLY HAVE A FEW SPOTS REMAINING. FOR INQUIRIES CONTACT US - store@mossycreekflyfishing.com or call the fly shop 540-434-2444.