Sage ESN Reel
Sage ESN Reel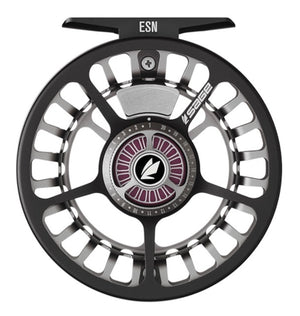 Probably the last guy who should write about reels is the shop's tenkara guide but Sage's ESN reel got my attention. Sage targeted this reel to the euro nymphing anglers but as I dug deeper into it I saw features that will appeal to anglers for many fishing situations.
Tenkara anglers use long light rods with very light lines to high stick both nymphs and dries. The sensitivity that comes from that set up is fantastic. Getting that kind of sensitivity with a rod and reel has been challenging but Sage may have cracked the code. Here are a couple of features that got my attention.
First, there is a set of weights to use to fine tune the balance of your rod, reel and line. As a tenkara devotee I use a light rod with a very light line so balance isn't a issue. Neither is arm fatigue, the whole set up is light.
The ESN reel has a sophisticated balance system. Three different sized counterweights come with the reel. They fit inside the frame and can be positioned to really fine tune the balance.
This fine tuning increase sensitivity to strikes whether you are fishing nymphs or dries. It will also cut down on arm fatigue when you are high sticking.
Second, the reel is narrow with an ultra-large arbor and sealed drag. The narrow design means you can reel in line quickly without worrying about the line bunching on one side of the reel. That might not seem like a big deal until a fish runs and you find your line snagged by an override on the reel.
Here's how Sage describes the ESN Reel.
Packed with a suite of specialty features, the ESN reel is designed specifically with the Euro-Nymph angler in mind and is fine tuned to the nuances of the application. Built around a super thin and large diameter arbor, this design now makes it easier to get fish on the reel quickly, minimizing the need to guide line onto the spool with your finger, all while providing consistent drag output. A unique balance system allows anglers to assemble and fine-tune a set of weights, so the ESN reel can perfectly balance any Euro Nymphing (or standard) rod. Add in a full frame that prevents fine leaders and lines from sneaking through the frame, and a sealed carbon drag system that provides a smooth uptake - leaving you with the ultimate fish-catching machine.
Specs and technical stuff from Sage
Full Frame
SCS Drag
One Revolution Drag Knob with numbered and detented setting
Ultra-Large arbor for fast line pick-up
Narrower spool for small volume ESN lines
Concave arbor for greater strength and capacity
Stainless steel ½, 1, and 1 ½ oz weights to adjust ideal balance point of nymphing setup
Easy conversion from left- to right-hand retrieve
Neoprene and embroidered ballistic nylon reel case & spare weight case
The ESN Reel is available from our online store [CLICK HERE].